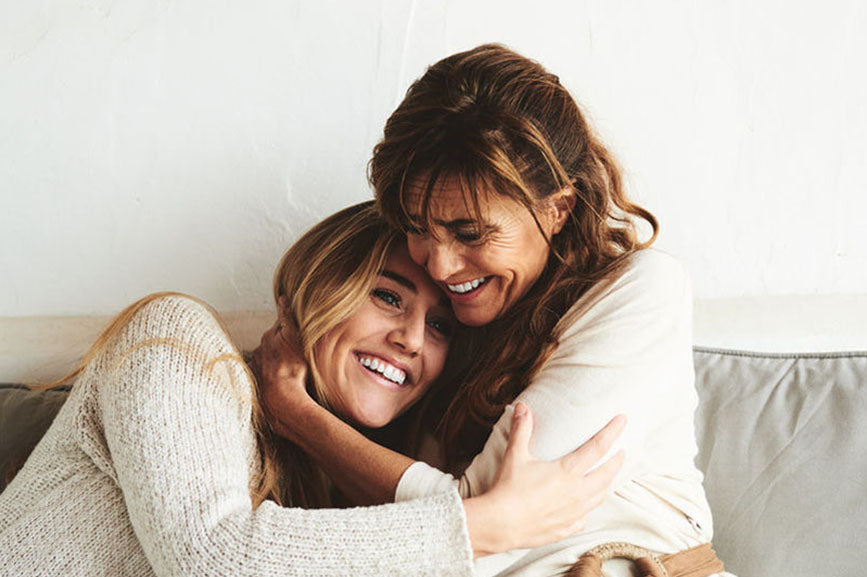 For Mother's Day this year, we're encouraging you to shop our favorite small and local businesses online. You'll be giving mom a gift she'll adore while helping keep beloved New York businesses open—a win-win! Here are our picks below, plus a little about the amazing companies behind them.
Photo courtesy of Sleeper and Mansur Gavriel
Sleeper was launched in 2014 by former editors Kate Zubarieva and Asya Varetsa, who had a dream of creating the most beautiful and most comfortable loungewear. Everything is made entirely in NYC, so they can oversee the quality of their products from start to finish. Their offerings range from breezy linen suits to glam feathery sets, too cute to be worn just indoors. 
Ballerina flats from Mansur Gavriel
The minimalist designers behind the Brooklyn it-bag also has flats that are unrivaled in comfort. Available in a variety of chic colors, they're the perfect shoe for lounging around the house or running around the city.
A bouquet from Belle Fleur
At Tracie Martyn, we're a huge fan of birthdays, and everyone on our team is spoiled every year with the most stunning bouquet from Belle Fleur, which is located just across the street from our spa. Our go-to bouquet is the Designer's Choice. You can specify mom's favorite color palette or just your budget and have a unique and stunning arrangement sent for Mother's Day!

Books or a gift card from The Strand
You can't get on a subway car in New York without seeing one of the Strand's iconic tote bags. The Strand is a New York institution and a family owned-and-operated bookstore that's been open since 1927. While it doesn't beat chatting with their incredibly knowledgeable team, you can shop their huge selection online or buy a gift card if you're not sure what's on mom's reading wish list.

Photo by @leoncircle & Catbird
Jewelry from Catbird
"For as long as I can remember, Catbird has been an NYC go-to for gifting. For best friends, significant others, and for mom, Catbird has something for everyone in every budget. The charm pieces are a favorite, using real golds and silvers with pearls, diamonds, etc. to create something sentimental, but delicate enough to wear everyday. This cannoli charm was the perfect gift for my mom to commemorate our trip to Italy last year!" — Emmy

A membership to Leon Circle from Leon & Son
"I feel extremely blessed that Leon & Son is my friendly neighborhood wine store. In my years of shopping there, the friendly team and Chris, the owner, have never steered me wrong. A membership to Leon Circle gets you three bottles of wine monthly selected by Chris and co., plus tasting notes that you'll actually read. Last month, all their wines were purchased from NYC restaurants in need of help!" — KB
A little something from Wendy Nichol
"Wendy Nichol is a NYC-based designer who has handmade leather goods, jewelry, clothing and now vintage items too. She also just recently launched her new fragrance, Potion No. 1, to celebrate her 10-year anniversary. Any one of her rings or earrings would make such a beautiful gift for mom!" — Lane
Mom deserves the best-of-the-best—enter, our Super Lift Duo. The Firming Serum and the Neck and Body Resculpting Serum feature powerful natural ingredients that help address visible signs of aging. It's available for $65 off for a limited time only.