Welcome to Rituals, a new series in which we ask our inspiring clients and friends to let us in on the rituals that make up their day. First up is designer Susan Alexandra, creator of color-soaked, joy-sparking beaded bags that have been spotted on the arms of the Hadid sisters as well as practically every fashion editor in NYC. Watch out for the launch of her homeware collection soon. We can't wait to brighten up our home with her sunny outlook: "Everything should be a little funny and have a dash of wit."
The Rituals Questionnaire
Scorpio/ Gemini Rising/ Aquarius Moon. What a combo, right?

I pick my dog up carefully so as not to wake him and plop him in my bed. Then I tell him how handsome and good he is (every creature needs positive affirmations!). I start my coffee, add a dash of oat or almond or pistachio milk and take it back in bed. I wish I could tell you that I spent the next hour setting intentions but I usually am checking my email/ insta/dating app/ texts. Next, I gua sha for 10 minutes. Then I do an hour of either yoga or pilates!
I love movies and TV. I recently discovered that I've been a Criterion Channel subscriber for a year and have never used it so I'm making up for lost time with lots and lots of old movies every evening. This is also the best way for me to find inspiration. [Two of the] really positive habits I picked up during this past year of looking and living inward is leaving my phone in another room when I sleep and reading before bed. These are SO healing for me.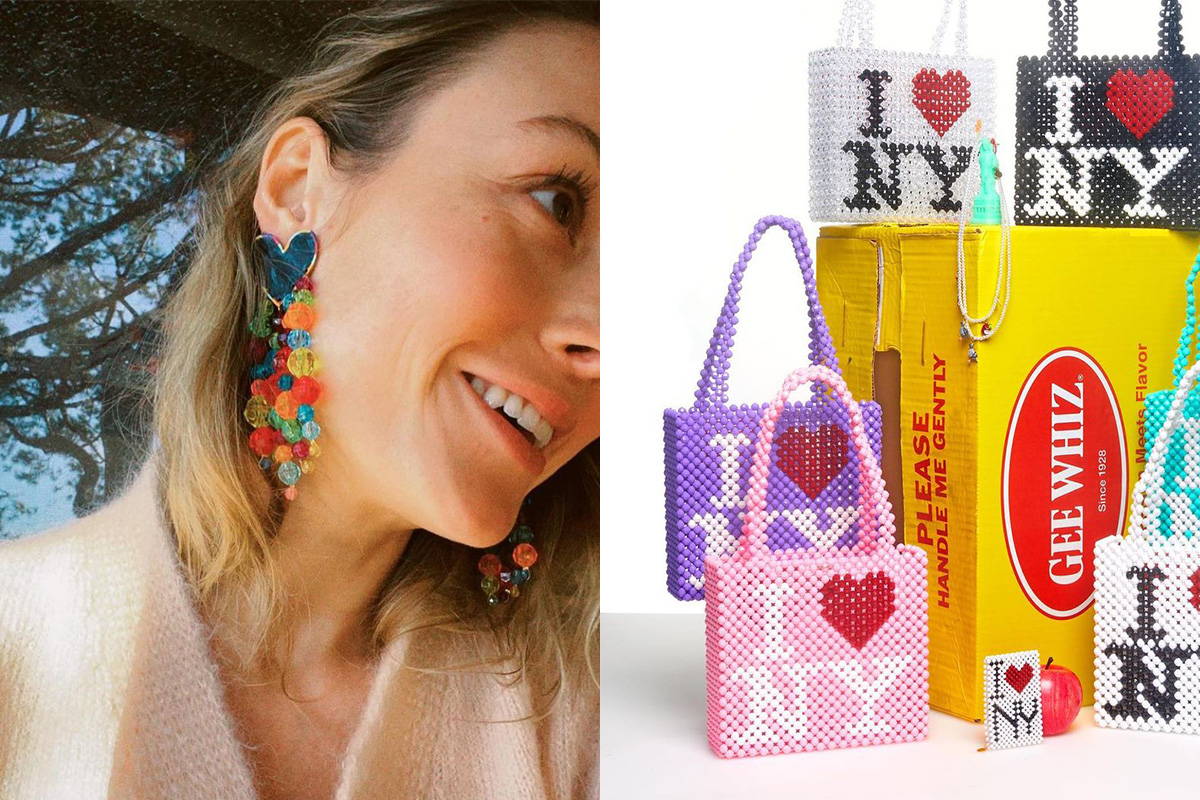 Brie Larson in Susan Alexandra & I Heart NY Bags | Photos from @susanalexandra
Skin has always been a struggle for me. I developed acne at a very young age and have done everything to tame it into submission. When I was really young, the dermatologists prescribed an army of antibiotics to combat the acne, which depleted my microbiome and left me with a host of other issues (ulcerative colitis). I've tried EVERYTHING. Right now, I take Spironalactone, which really helps with the hormonal breakouts. But there is still more work to be done! I wash off my makeup with the Tracie Martyn Amla Purifying Cleanser. Then, I use Bioloqiue Recherche p50. Then I use a dollop of the Tracie Martyn Firming Serum followed by the Face Resculpting Cream. Some nights, I micro-needle, and then I use a pea-sized bit of retinol, followed by the Face Resculpting Cream. I'm still trying to figure out how to diminish the scarring and discoloration. Maybe I should just figure out how to love all these scars and splotches? That might be easier.
Wellness & Workout Ritual
Yoga or pilates at least three times a week. The rest of the wellness is good conversations with friends or Oprah's podcast. I've also been doing Kabbalah study zooms.

Work in progress, always. Trying to consciously do something every day that is joy-inducing. This can be tough. Sometimes it's watching a really beautiful film, lots of times it's kissing my dog 1000 times in a row. Eating something really remarkable is also a life hack for joy. Lately for me it's really stupendous citrus, expensive grassy olive oil and beautiful drinking glasses.